Visit our store: You can order an SEO service from our company online, and we will start working on your website much faster.
Fill out the form
and get a free quote!
GET A FREE QUOTE FOR SEO ACTIVITIES FOR YOUR BUSINESS
Leave us a contact to you and we will call you back and present an offer tailored to the needs of your business.
---
Are you planning to increase the visibility of your website on the Internet? DuckDuck Go is the perfect place to get extra traffic to your business website! Become # 1 in the search engine that cares about privacy!
The fact is that Google has long been a leader in terms of popularity in Poland and the world. However, it is worth going beyond the usual patterns and gaining additional traffic from other channels. One of them may be an alternative search engine – DuckDuckGo .
What is DuckDuck Go?
At the outset, it is worth getting acquainted with the basic information and assumptions of the project. DuckDuckGo is an internet search engine created by Gabriel Weinberg in 2008. The main distinction among other entities on the market (e.g., Facebook, Google, Snapchat, Yahoo, etc.) is taking care of users' privacy.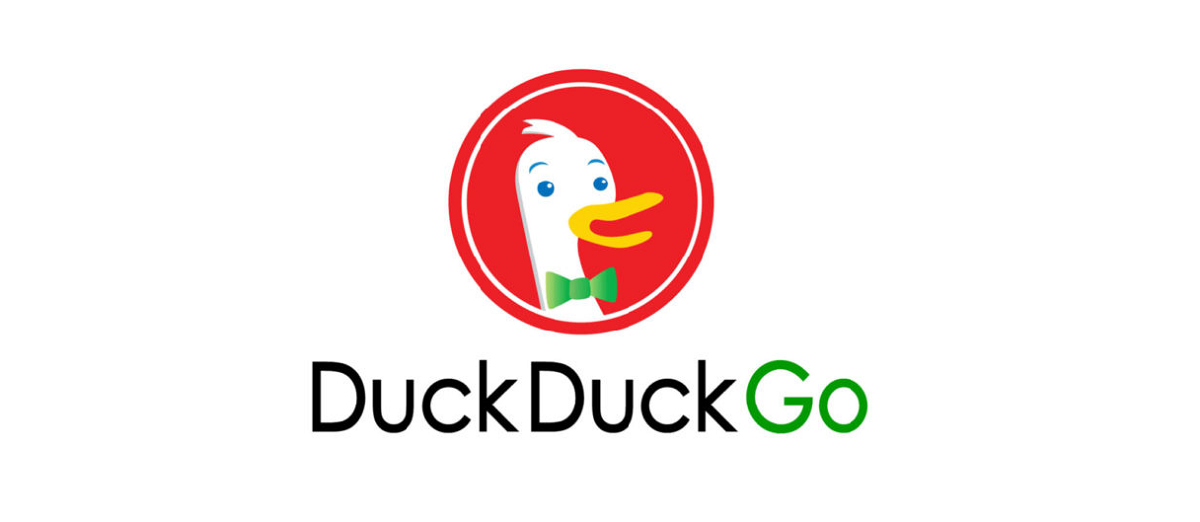 DuckDuckGo's ideology is simple: "no tracking, no targeting, only searches." The company does not track user searches, does not collect or share personal data. Mobile users have created an application that works in the same way as on the desktop. The mobile application enforces the HTTPS protocol, blocks tracking scripts, and allows you to delete all data generated in the session.
The main difference between DuckDuckGo and Google is the way search results and ads are delivered. Google personalizes its results by delivering content and advertising based on user data. DuckDuckGo, on the other hand, does not profile people using the search engine; everyone sees the same results.
Is it worth positioning in DuckDuckGo?
Diversifying the sources of incoming traffic to the website is an element of the strategy that must be applied efficiently in the current market. The search engine has been gaining popularity in recent years; more and more people are starting to care about their privacy, looking for an alternative to Google. Despite the small market share of DuckDuck Go in the search engine market, it is worth adjusting your website; with little effort, you will get an increase in organic traffic to your website. We effectively position our clients' websites in search engines. See for yourself!
Diversifying traffic from search engines is a good way to get more hits. Currently, DuckDuckGo has a 1.75% market share, compared to the popular Yahoo search engine is only 3.41%. Because DuckDuckGo does not track its users, it is not possible to determine the exact number of them – however, it is known that on January 11, 2021, the search engine recorded a record number of searches – it was over 100 million in one day.
How to optimize for DuckDuckGo?
Optimizing a page in DuckDuck Go does not differ much from the way it works for other search engines. The following paragraphs provide some basic guidelines to help you optimize your site for DuckDuckGo.
Interestingly, the search engine uses over 400 sources to deliver search results from Yahoo and Bing, among others.
The website optimization strategy should be adapted to the requirements of these search engines.
Therefore, it is worth checking these search engines' guidelines on the following websites: https://help.yahoo.com/kb/search-for-desktop and https://www.bing.com/webmasters/help/webmasters-guidelines-30fba23a.
The implementation of the website to Bing Webmasters will provide all information about the website's condition, errors and allow to analyze the indexation of the website.
High-quality links
An important aspect of website search engine optimization in Duck Duck Go and other search engines is obtaining backlinks from good quality websites; However, the company does not provide much information about the ranking process; it mentions that good sources are the best way to have good visibility. When working on link building, you should pay attention to several factors when analyzing an incoming link to influence the website's position in the search engine positively. To analyze the obtained link, it is worth using the tools and indicators they provide. We recommend that you focus on the following factors:
Domain Authority – On a scale from 0 to 100, the higher the index, the more valuable the link is
Take care of local search results
Following the privacy policy of DuckDuck Go, it does not track its users and does not know their location. The search engine uses GEO IP to identify users who need to identify exactly where they want to get personalized results. It is important to include location information in the content and meta tags, adding any data that enables the user to identify the location. For the test, I searched for the phrase "nearby restaurants," the location of the computer is Rzeszów (Podkarpacie), while the search engine provides results from, among others: Leszno (Greater Poland).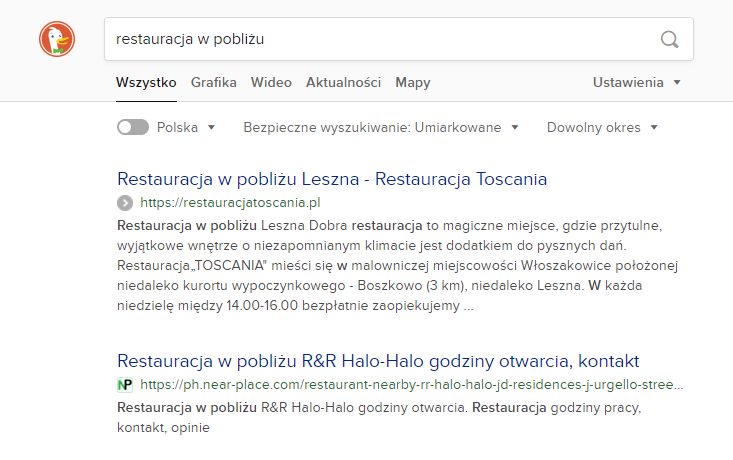 For comparison, the given phrase on Google provides the following results: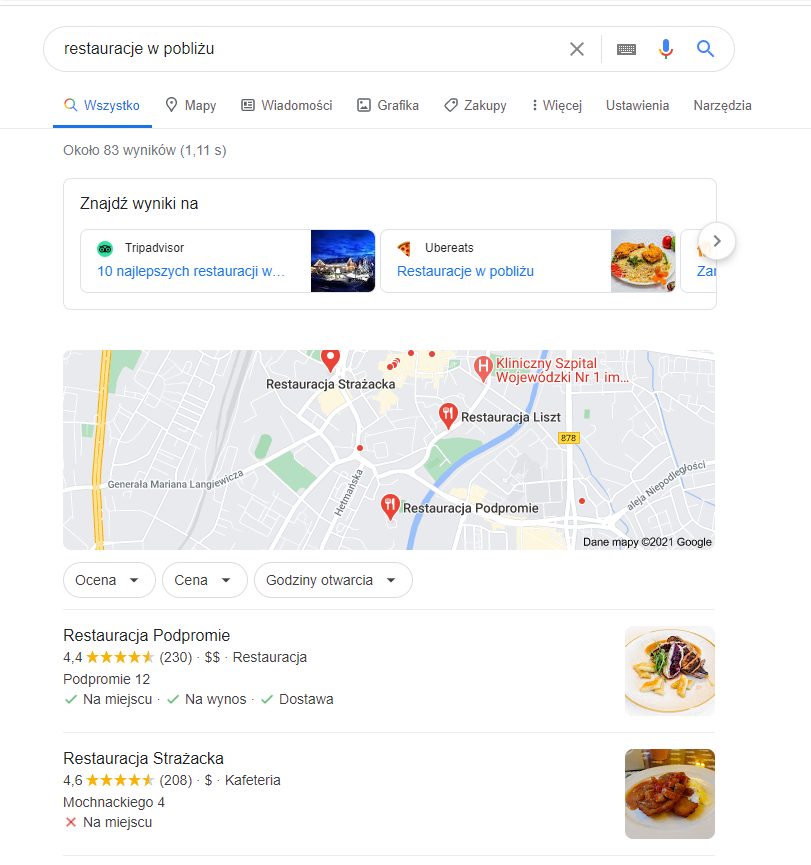 The lack of personalized results can prove to be a great inconvenience for DuckDuck Go users, but that is the price of privacy.
The search engine gets map results from AppleMaps. The enterprise application is available at the URL – https://mapsconnect.apple.com . During the application, you must complete basic data such as:
company name;
address;
Phone number;
opening hours;
industry;
website;
social media profiles.
Mobile devices
Currently, search engines are used by users via mobile devices, so you should make sure that the website is fully optimized for mobile SEO. Reducing the page loading time and taking care of the user experience (UX) is important for the user's convenience and visibility in top search engines, which means that it is also an important issue for DuckDuck Go.
The website analysis for mobile devices can be performed using the Bing tool.
Meta data optimization
Meta tags are elements placed in the <head> section of a website; their task is to show the search engine robot the most important information about a given subpage. Social media and web browsers also use metadata. The user partially sees metadata such as the title tag and meta description, but he has no idea about the others (meta robots, meta keywords).
When optimizing your website, follow the metadata development guidelines that Bing and Google have proved. These are key data in search engine optimization, from which the search algorithm retrieves information about the website. Title tags will appear as a list of page titles in Google, Bing, Yahoo, and DuckDuckGo. Having separate metadata for each search engine is impossible, creating a universal one that meets all the guidelines. Therefore, when creating your title tag, you should consider combinations relevant to all search engines. If the website is positioned only for DuckDuck Go, it is worth adjusting your website to Bing's guidelines.
Page indexing in DuckDuck Go
Checking indexed subpages is done in the same way as in the Google search engine, by entering "site: domena. pl".
The interpretation of page data in DuckDuck Go is significantly different from work in other search engines because it does not support its unique search database; it uses other sources. Therefore, website analysis should be performed with the help of third parties such as Bing Webmasters. Bing rules must be followed to index a website.
To properly take care of the page indexing under DuckDuck Go, you should:
Configure your website for Bing with a sitemap, helping search engines understand your site's structure
Do not block the resources necessary to familiarize yourself with the site and provide the user with convenience
Content optimization
Content creation and optimization are important in achieving good results in any search engine's organic search results. To search for keywords, use tools such as Ubersuggest and Answer The Public; they will allow you to find optimal phrases that need to be naturally incorporated into the content on the website.
Here are some tips to help you reach more people on DuckDuck Go:
Users search for questions containing: "what", "how", why, "when", etc. Thus, using these phrases in metadata will allow for better visibility in organic search results.
When positioning the website for local phrases, the exact location of the company should be taken into account, DuckDuckGo does not have the user's location, only by entering the keyword phrase + the city will obtain entities of interest.
The content created on the website will be most effective when written according to EAT (Expertise – Authoritativeness – Trustworthiness) guidelines, i.e., quality, expert content, good name, and trust.
When creating texts for the website, it is worth following these tips:
Think about the keywords that users are typing when searching for content and make sure they're on the page
Create content for users, not search engine robots.
Create content that will make your website stand out from the competition and provide the user with all the information he needs
Help the search engine crawlers to fully understand the content of your page, allow the indexing of all site resources that could significantly affect the rendering of the page, for example CSS and JavaScript files that affect the understanding of pages.
Structured data
DuckDuck Go, like other search engines, also loves structured data that provides important information to understand a page. Implementing structured data on the page allows the DuckDuck Go robot to process the data faster and better understand it while saving time. The most popular markup for structured data includes:
Evaluation of products, services and articles
Website data – website name, post title, content and date of the last update
summary
DuckDuckGo is an internet search engine created by Gabriel Weinberg in 2008.
DuckDuckGo does not track user searches, does not collect or share personal data.
The search engine has been gaining popularity in recent years as more and more people are beginning to care about their privacy. Customize your website and with little effort you can get an increase in organic traffic to your site.
The website optimization strategy should be adapted to the requirements of the Bing and Yahoo search engines, as DuckDuckGo uses them to deliver search results
When working on link building, you should pay attention to a number of factors so that the link has a positive impact on the website's position in the search engine.
The search engine uses GEO IP to identify users who need to pinpoint where they are if they want personalized results, so it's important to include location information in your content and meta tags
Users mainly use search engines on mobile devices, so make sure your website is fully optimized for mobile SEO
When optimizing a page, follow the metadata creation guidelines tested by Bing and Google in order to show the crawler the most important information about a given subpage
DuckDuck Go uses search databases from other sources, so site analysis should be done with third parties such as Bing Webmasters
Summary
Customizing a website for DuckDuckGo is not much different than optimizing a website for Google, so it's worth your while to gain new organic traffic. Search engine optimization in DuckDuck Go is a good way to diversify search engine traffic; more and more people care about their privacy, traffic will increase year by year. Despite the low popularity in our country, it is worth adjusting your website to DuckDuckGo, and it may generate tangible benefits in the future.
Are you looking for marketing solutions for your business?
Our experts will prepare the best strategy and help you increase your sales.
---
Have a look below what our SEO company can do for your business!
#1 Marketing and SEO Company
| Best SEO Agency for International Business
---
Get top rankings in Google
You will get tips, SEO services on the most proficient method to advance the situation of your site in the Google and Bing index like Facebook and Yahoo.
Accessibility for Internet users
You will learn with our SEO company if your site works appropriately on mobile phones and on the off chance that it is showcasing and top-rated SEO.
Our SEO Agency can help you search for the best SEO consultants in Singapore, Hong Kong, Dubai, and International SEO. You can have the best specialists for Google SEO, Facebook, and Bing website improvement worldwide. We are advertising specialists and SEO experts showcasing top-rated Dubai, Singapore, and London premium SEO for administrations in the websites for our customers in the Middle East area, Asia and Europe.
Web composition and upgrade for your company may be done from Dubai or Singapore | Best SEO Agency and SEO expert in your country can help you, Optimization for web files – measures highlighted achieving search engine optimization techniques by a given webpage the most raised possible circumstance in the results of normal web crawlers for picked expressions and articulations. The arranging cycle is a segment of extensively understood web development.
Are you looking for a reputable SEO Expert? SEO Experts Inc #1 recommended search engine optimization experts offering professional SEO services for Dubai SEO, SEO in Singapore, Hong Kong SEO, SEO Specialists for International SEO, and International SEO Agency SEO. Check also: