Visit our store: You can order an SEO service from our company online, and we will start working on your website much faster.
Fill out the form
and get a free quote!
GET A FREE QUOTE FOR SEO ACTIVITIES FOR YOUR BUSINESS
Leave us a contact to you and we will call you back and present an offer tailored to the needs of your business.
---
Many paid SEO tools allow you to track the SEO effects. However, you don't have to spend resources to access specialized tools because the free Google Search Console offers a lot of data that will help you improve your SEO strategy. Would you please read our guide and learn how to use GSC to improve your website's SEO performance?
Google Search Console – what is it and how to use it in positioning?
Google Search Console is a free Google website monitoring tool. If you do not have access to specialized (and paid) SEO tools, GSC can analyze the effectiveness of SEO. In the tool, you will find the following reports:
Performance – regarding the number of impressions, clicks and CTR generated by the website as a whole and by individual URLs.
Status – concerning the indexing status of the website (informs which subpages are added to the Google index and which are not, as well as about errors that may affect indexing and the effectiveness of the website).
Basic Web Metrics – This applies to adapting your website to Core Web Vitals.
Sitemaps – where you can add a sitemap to help index the page, or review or update an existing map.
Operation on mobile devices – concerning the adaptation of the website to display on smartphones and tablets.
Links – containing a basic list of external and internal links leading to your website.
In our Google Search Console guide, we will show you what you can do with the tool and where you will get the necessary data for SEO analysis from GSC.
Performance report in Google Search Console
A status report in Google Search Console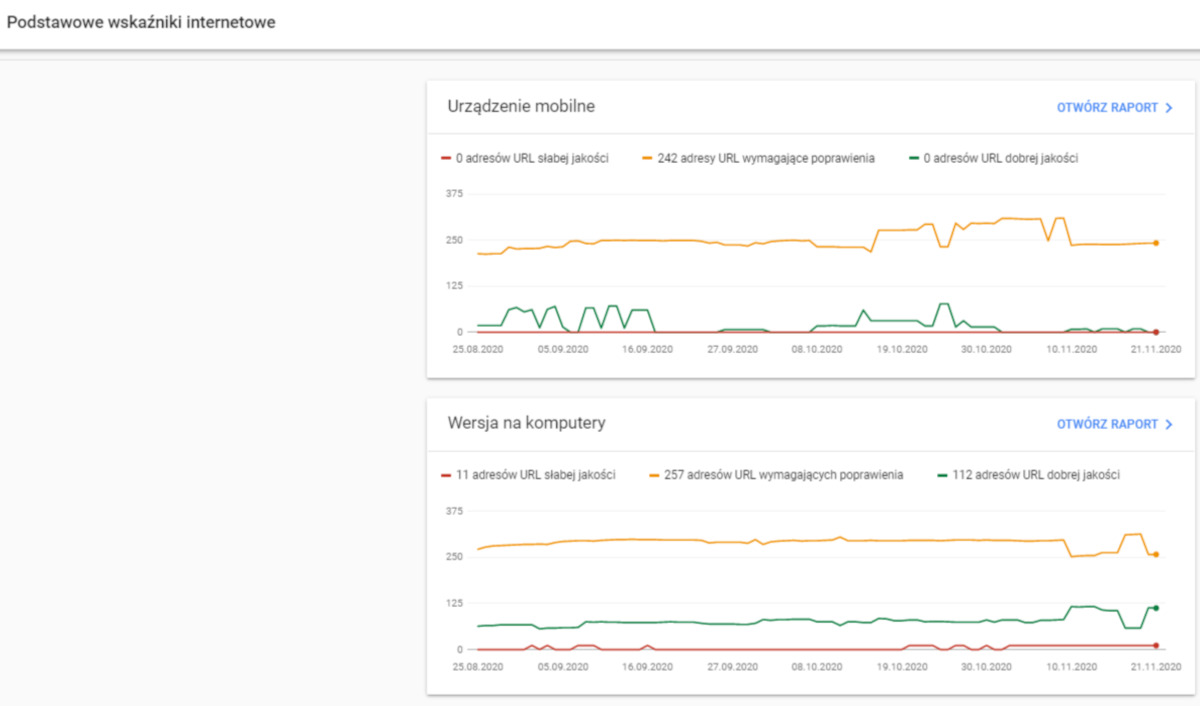 Google Search Console Core Web Metrics report
Google Search Console Sitemaps report
The Mobile Service Report in Google Search Console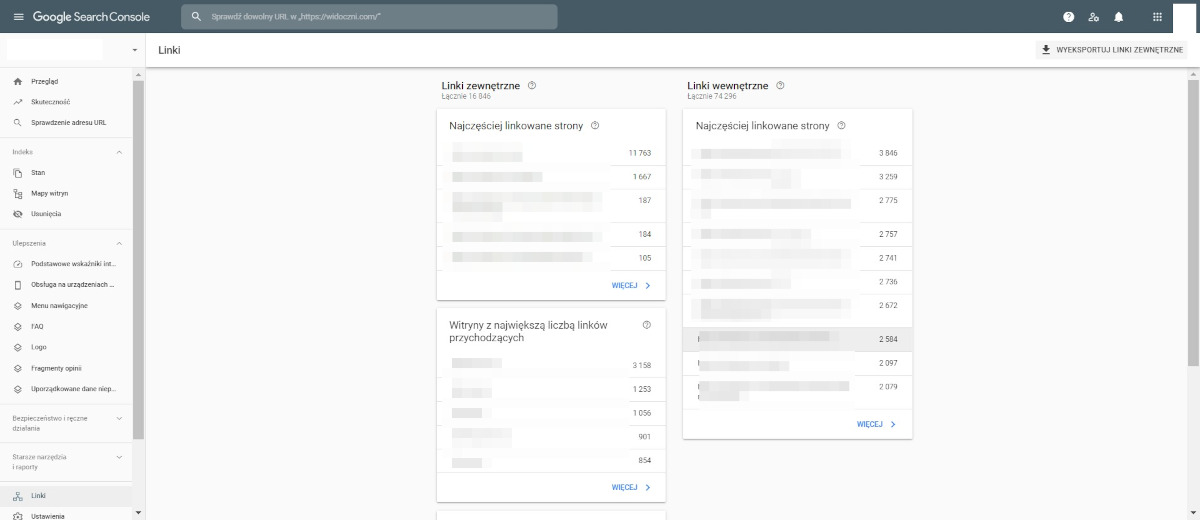 Links report in Google Search Console
How to use Google Search Console to improve SEO results?
Reports available in Google Search Console allow you to obtain important information on the effectiveness of SEO strategies and use them to improve operations. Use our tips and check:
what parameters to track in Google Search Console to intensify SEO activities,
what activities in the field of positioning you can carry out in and with Google Search Console.
Let's see what you can do with Google Search Console to improve your organic search rankings and traffic.
1. Submit your site maps in Google Search Console
There is no SEO/SEM in Dubai, Singapore, Hong Kong, London, or the USA without indexing – for Google robots to place your website in organic search results, they must visit it, read and save the information contained in the code. To make this task easier for robots, include a sitemap in XML format on your site. It is a compilation of all URLs available on the site (with update dates) reflecting its structure. After placing the map on the website server, the address of the file should be sent to GSC.
2. Adding URLs to the Google index
In GSC, you will also add a single URL to the indexing. If you've recently published a new blog entry or updated an old one and want to speed up its indexation, paste the URL into the empty box, and then click the "Request Indexing" button.
Map adding panel in Google Search Console
Request to index the URL in Google Search Console
3. Check the indexing status in GSC
Open the "Status" report, then click on the "valid" tab – compare the number of correctly indexed URLs with the number of URLs available in the submitted sitemap. This way, you will check if you have problems with indexing, technical errors, or duplicate content.
The Status report in GSC will show you how many pages have been indexed by Google crawlers.
4. Diagnosis of crawl errors in Google Search Console
Errors in indexing your website can cause a drop in your rank and traffic from organic search results. However, to find them, you do not have to search the HTML code of individual pages manually. Information on technical errors that may hinder or even prevent indexing and SEO activities can be found in the "Status" report in GSC in the "Errors" and "Correct with warning" tabs.
Report of errors that may hinder indexing in Google Search Console
Report identifying potential problems
5. Verification of manual penalties from Google in Google Search Console
If a hacking attack or violation of Google's Webmaster Guidelines, your website may be penalized by a Google team member while browsing it manually. You can check information about such a filter in Google Search Console in the "Security and manual actions" report. After eliminating the errors in the same place, you can ask the team member for another website verification.
Manual Actions Report in Google Search Console
6. Verification of website adaptation to mobile devices in GSC
Are you not sure if your website works properly on mobile? You can easily check it at GSC. Refer to the "Support on Mobile Devices" report. You will find there any errors that may affect the website reception problems on smartphones and tablets, including:
use of incompatible plugins,
no visible area setting,
the visible area does not match the width of the device screen
content wider than the screen,
small font that makes it difficult to read the text,
too small distance between clickable elements,
After you've fixed all the errors on your site, you can ask Google to index it again.
7. Verification of the website's adaptation to Core Web Vitals
Core Web Vitals are elements influencing the Page Experience, i.e., the reception of the website by users while browsing it. This report was added to Google Search Console after it was announced that Core Web Vitals would become a Google ranking factor. The report is available in the Experiments and personalization tab. Currently, in this report, you will find:
evaluation of the website in terms of Core Web Vitals on mobile and stationary devices ,
dividing URLs into good quality ones, requiring improvement and poor quality. After entering the reports for mobile and desktop devices, you will find detailed information about the occurring problems in the field of CWV.
Based on the data collected by the tool, you will correct the parameters indicated by the tool are imperfect.
Learn more about Core Web Vitals in the articles below:
Page Experience – a new Google ranking factor
8 practical tips that will help you prepare your website for Core Web Vitals
Google Search Console web metrics report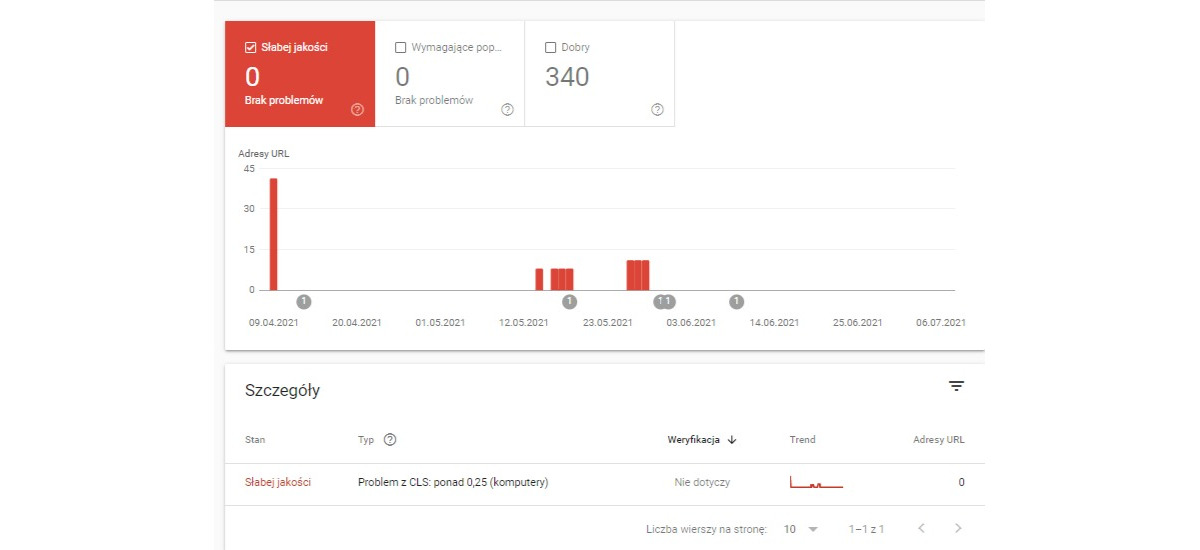 Detailed reports on Core Web Vitals on mobile and desktop devices
8. Analysis of the website's effectiveness in organic search results in GSC
In the "Performance" report, you will find information about the effectiveness of your SEO activities and users' reactions to your results on Google. Notice the data above the performance graph. They concern:
views (how many times your page was displayed in organic search results in response to a user's query),
clicks (how many times users clicked on your website after viewing it on Google),
CTR – click-through rate (i.e. the ratio of the number of clicks to the number of page views in organic search results),
average position (the average position of your website, including the highest position it has ever been in).
Based on the report, you can improve your activities. If:
Impressions are high and clicks and CTR are low, you may need to work on title and description.
the average position is low, you should focus on better website optimization and content development.
A performance report that provides information about the total number of page views and clicks in search results, as well as the CTR and average position of the entire site

9. Verifying the effectiveness of specific content from Google Search Console
Data on the number of clicks, impressions, and CTR in the Google Search Console apply to the entire page and individual subpages. On their basis, you can assess whether users eagerly visit a specific content (e.g., a blog entry) and whether it suits their needs. All you need to do is select the "Pages" tab in the performance report and click on the URL you are interested in. In response, you will receive a performance report for an individual URL with information about:
the number of content views in search results in response to the user's query,
the number of clicks on the link to the content in organic search results,
medium CTR,
the average position of a particular page in Google's organic results.
Thanks to this data, you can check the effectiveness of the content – whether it is visible on Google at all (views) and whether it responds to users' inquiries (clicks). The average position will tell you whether it is worth further optimizing the content for specific phrases or whether the current optimization status is correct and gives you high positions. If the number of impressions is high and the number of clicks and CTRs is low, think about editing the title and description.
10. Checking the way users interact with the website in Google Search Console
The performance report in Google Search Console also shows information about how users interact with your page in search results. The data concerns:
devices used by users,
countries from which users come,
Interacting with additional items displayed in search results, such as rich snippets and feedback snippets.
Performance report showing how the search results look in the search engine and the performance of additional items
Report presenting data on devices used by visitors
11. Verification of queries that cause the page to be displayed on Google
The site performance report in Google Search Console includes a special "Inquiries" tab, where you can track which terms your page is showing for in organic search results and how many clicks these impressions generate. Thanks to this tab, you can verify that the website is displayed for the passwords you want to display for and rank. If there are no search terms in your search queries that you are doing SEO for, perhaps your site should be better optimized, with more content and keywords.
Queries that cause the page to be displayed and clicked on it based on Google Search Console
12. Assessment of the impact of changes on the website on the effectiveness of content and positioning
Do you have your website? It would help if you regularly browse the content to optimize or expand it better. It's a good idea to add new elements to your content as needed and update the title and description if your content isn't as effective as you'd like. After such an update, you can check in Google Search Console whether it has positively affected SEO. Verify that the specific URL gets more impressions and clicks. If so, it means that your actions have brought the expected effect. Read more about content updates.
How long does it take for SEO results?
13. Identification of content and subpages that have a low CTR
Google Search Console will allow you to find those subpages that do not perform well in search results. In the Performance report, in the "Pages" tab, you need to sort the results by CTR, starting with the lowest number. In this way, the tool will present the least effective content, and you will be able to work on optimizing it. Consider whether the metadata visible in search results needs improvement. You can:
change the content in such a way that it answers the user's question and encourages him to click on the link,
add a CTA,
put a keyword phrase in title and description.
Check out our SEO metadata tips:
How to optimize metadata in positioning?
14. Basic analysis of links pointing to your website
The Google Search Console guide could not be complete without the "Links" report, thanks to which you can perform basic link analysis in SEO. The report contains information on:
the total number of backlinks,
the most frequently linked pages on your website,
the most popular anchors.
Thanks to the obtained data, you will find out if your link profile development strategy is effective:
you will check whether the links lead to the pages that are most important in terms of sales,
you will verify if the links are growing and if it happens naturally
find harmful links and be able to opt out of them,
you will check how many pages link to your website.
Most linked pages in Google Search Console
15. Planning the structure of internal links in Google Search Console
In the "Links" module, you can also view and analyze data on internal links. Why is it worth doing this? Since the structure of internal links affects:
site navigation,
the degree of difficulty in indexing the site by Google robots,
the level of understanding of information by Google robots,
passing authority between URLs within your site.
Internal links also show Google crawlers the most important subpages on your site. Therefore, during the analysis, check whether the largest number of links lead to the most important subpages to generate revenue and conversion.
Pages with the most internal links
Summary
You do not need to invest in specialized and paid SEO tools to achieve good results in SEO/SEM in Dubai, Singapore, Hong Kong, London, or the USA. Skillful use of Google Search Console will allow you to eliminate technical errors, verify your SEO strategy's effectiveness, improve it, improve liking, or speed up indexing.
---
Why SEO and SEM with specialist.net?
We help companies to be successful on Google!
---
We develop brand graphics, generate compelling content, boost reach and improve conversions. We are representatives of the Interactive Agency and Internet Software House – SEOspecialist.net, which has significant expertise in search engine optimization. We mix e-marketing expertise with technical capabilities.
We are capable of handling even the most complex tasks. We are experts in website search engine optimization, social media marketing, and usability improvement. Contact us now for more information. We provide complete e-commerce assistance.
We choose the most appropriate solutions and provide guidance, expertise, and experience continuously.
Are you searching for your company marketing solutions?
Our specialists will develop the finest plan and assist you to boost sales.
---
Have a look below what our SEO company can do for your business!
#1 Marketing and SEO Company
| Best SEO Agency for International Business
---
Get top Search rankings with Google
You'll get suggestions, SEO services on the most effective way to improve Google and Bing index situations on your site, such as Facebook and Yahoo.
Business SEO for Yahoo, Bing & Google
We will assist you with search engine optimization and search engine marketing. We are here to assist you with Search Engine Marketing/Search Engine Optimization (SEM/SEO) and Search Engine Marketing for Amazon, Duckduckgo, Google PPC, and AOL!
Searching for the finest SEO experts in Singapore, Hong Kong, Dubai, and other international locations is easier with our Affordable seo. We have the finest Wikipedia SEO, Instagram, and Baidu website optimization experts globally. We are advertising and Marketing professionals offering quality SEO services in Dubai, Singapore, and London for our Middle Eastern, Asian, and European businesses.
Your company's website composition and update may be completed from Dubai or Singapore | The best SEO agency and SEO specialist in your nation can assist you. Optimization for web files is a collection of methods to give a certain site the best possible position in the results of standard web crawlers for specific expressions and articulations, as determined by search engine optimization strategies. The organizing cycle is a part of web development that is well known and understood.
Search Engine Optimization
Are you searching for a trustworthy Search Engine Optimization (SEO) expert? International SEO Agency SEO by Digital marketing Experts Inc. is the #1 recommended search engine marketing expert globally. We provide professional search engine optimization services for Dubai Search Engine Optimization, Singapore Search Engine Improvement, Hong Kong Search Engine Optimization, International SEO Specialists for Regional SEO, and Global SEO Agency Link building.
We provide SEO for Google, Bing, Yahoo and Baidu!
Check also other seo techniques:
Why should you choose specialist.net for SEO and SEM?
We assist businesses in being successful on Google!

We are providing SEO in Dubai, SEO in Hong Kong, SEO in Singapore.
Our other SEO companies
SEO Dubai
SEO Dubai – Are you looking for a United Arab Emirates SEO firm and consultant that can provide a complete package of SEO services? Our company provides SEM/ SEO in Dubai offers everything you need.
SEO Hong Kong
SEO Hong Kong – Hong Kong's Top SEO Agency that we created. Find out which Seo professionals in Hong Kong are ideal. We created the rankings depending on several metrics, including the firm's on-page, off-page, and technical SEO knowledge.
SEO Singapore
SEM and SEO Poland
SEO in Poland, our company also provides SEO Warszawa, please visit our companies website.
SEO Singapore – Allow the top SEO services in Singapore to assist your corporate website in actively responding to the first page of The search results. For the highest Effective seo services in search engine usage, 80 percent of Internet visitors arrive at the landing page.
In Singapore, could you email us?