Visit our store: You can order an SEO service from our company online, and we will start working on your website much faster.
Fill out the form
and get a free quote!
GET A FREE QUOTE FOR SEO ACTIVITIES FOR YOUR BUSINESS
Leave us a contact to you and we will call you back and present an offer tailored to the needs of your business.
---
If something brings spectacular results, it doesn't mean that it consumes huge sums of money and requires many hours of organizing. This is what it is with content marketing. But beware: successful content marketing needs optimization.
Today, the content is at your fingertips. All you need is Internet access and some time. Words, images, and sounds flow in a wide stream, but it is not enough just to "release" them into the world. A company that wants to talk about what it does, become recognizable in its market, and at the same time profit from sales needs to add a strategy, plan, and analysis to its content. What's more, in a world that suffers from an attention deficit, optimizing content marketing becomes essential.
Nir Eyal, in his book "Unscathed" (Helion Publishing House, Gliwice 2020, p. 25), writes: " In 1971 psychologist Herbert A. Simon prophetically stated:" A wealth of information means the scarcity of something else (…) the poverty of attention. » " And it is precisely this attention that companies, brands, and content creators are striving for. The poverty of attention means that the content should have value for the recipients, and they themselves have to want it – check the blog, read e-mails, click pictures, download infographics and e-books, read case studies and reports, enroll in courses and webinars, watch companies, comment and share posts on social media.
Why is content marketing so attractive?
Content marketing is a strategic marketing approach that involves creating and distributing valuable content. The aim is to attract and retain the target group's attention and, consequently, direct customers to profitable activities.
The cited definition comes from the Content Marketing Institute website. Founded in 2010, the Institute of Content Marketing is the most famous organization in the world that educates content marketing. The institute's founder is Joe Pulizzi, who said that brand promotion does not have to take advertising because there are more effective ways to do it.
Creating and disseminating content is not the practice of the last several or several dozen years. As early as 1895 (!) The American manufacturer of agricultural machinery John Deere began publishing The Furrow magazine.
At this point, it is impossible to ignore the issue of inbound marketing and permission marketing. The premise of inbound marketing is communication that allows recipients to reach the marketing message on their own. This idea is perfectly reflected in content marketing.
In consent marketing, the company must have the user's consent to provide content, which is clearly visible in e-mail marketing (a newsletter is a form of content marketing). Seth Godin, marketing guru and author of the concept of consent marketing, writes in his blog that "true consent works like this: if you stop showing up, people complain, ask where you've gone." According to Godin, consent marketing is a privilege (not a right) to deliver messages to people who actually want to receive them.
The situation is different with advertising, even if it is an advertisement that is based on the user's previous activity and reminds him, for example, of the content of an abandoned shopping cart.
Why is content marketing more effective than regular advertising?
Of course, advertising is unequal to advertising. Ads can be intrusive, tiring, and loud. And this is so much so that adding an ad-blocking extension to the browser is only a matter of time. This is what 8.8 million International user internet users thought in 2017. You can find information about this in the IAB UAE report: The Ad Blocking Phenomenon. According to the information in this report, 91% of users blocked desktop ads, and 30% used ad-blocking software while using their smartphones/phones. A year earlier, 78% of users used blocks on the desktop, and 21% added them on smartphones. Between 2012 and 2017, the number of Adblock users increased by 192%.
The sheer volume of competing ads causes information noise. I will quote a fragment of the publication "Consumer Psychology" (PWN Publishing House, Singapore 2014, p. 88) by Katarzyna Stasiuk and Dominika Maison: "(…) the number of products available on the market today is so large that only some brands have a chance to appear in the minds of customers. On the other hand, the crowd of advertisements for competing products causes the so-called information noise (advertising clutter), which is a reduction in the effectiveness of advertisements. "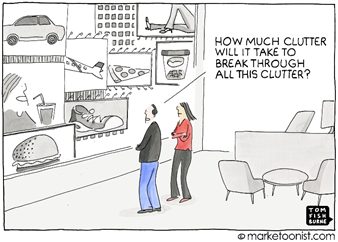 Another phenomenon is limiting the effectiveness of advertising banner blindness, the blindness Banner. It works by ignoring the page elements that look like advertisements. Below is an example of how a user ignores sponsored Google search results (based on eye-tracking research).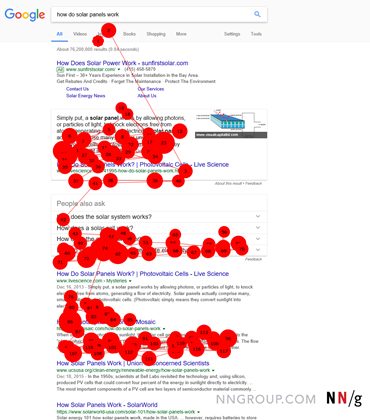 Find out more about how users avoid advertising on mobile devices and computers here: https://www.nngroup.com/articles/banner-blindness-old-and-new-findings/.
How to deal with ad blocking, information noise, and banner blindness?
One way to block or ignore advertisements by users is content marketing and advertising the native (native advertising), enabling content marketing strategy.
An example of such advertising is sponsored content, e.g., an article with information valuable to the reader or content promoted on social media. Native ad matches the place where it is published – it looks just like other content on the website or social media. Below is an example of a promoted tweet in the user's timeline. It is no different from other tweets. You might think that this is an entry from one of the following accounts. The sponsored/promoted content looks similar on Facebook, Instagram, and LinkedIn.
Why do companies need content marketing?
The information contained in the Content Marketing IAB UAE report from 2017 shows that companies publish content because their goal is, for example, to build brand awareness (75%), attract new customers (70%), build an expert position (68% ), sale of products and services (62%), building product awareness (60%), increasing website traffic (58%), strengthening the brand and product search engine optimization on the web (Google) (55%), increasing user engagement (54%).
Content marketing activities, compared to other marketing activities, best achieve goals such as: building an expert position (64%), building a brand image (60%), building brand awareness (55%), education (50%), strengthening brand search engine optimization, product on the web (Google) (48%), increase in user engagement (45%), building a community around the brand (42%), attracting new consumers and customers (40%).
How many of these companies conduct content marketing based on a strategy?
63% of respondents declared that they had a strategy, and 35% documented it—Meghan Casey in her book Content Management. Strategies and tools "(Helion Publishing House, Gliwice 2020, p. 136) write that the lack of a documented or official strategy is still a strategy.
"(…) it is simply an unintentional strategy that may or may not help achieve business results or meet the needs and expectations of users."
On the other hand, the Content Marketing Institute website informs that companies using content marketing:
increase sales,
they save,
they gain better customers and their loyalty.
The effects of content marketing are also described by the authors of the book "Content marketing. A modern guide to content marketing "(Newsline Publishing, search engine usage, 80 percent of Internet visitors arrive at the landing page.
In Singapore 2019, p. 31). According to Magdalena Tobiasz and Wojciech Szymański, good content marketing:
Will be found.
It will attract attention and engage.
It will be distributed.
They also write that in content marketing, the most important thing is to provide customers with what they need, use various distribution channels, use various information carriers and engage recipients following their expectations.
How, then, to manage content marketing campaigns to achieve the company's goals? First of all, you should plan, analyze and measure the results, and this is facilitated by tools and platforms such as Content Campaign Dashboard and systems for obtaining high-quality content.
Content marketing optimization
Content marketing optimization is possible thanks to the Content Campaign Dashboard platforms, which organize the team's work (website administrators, content creators, content managers, etc.) and improve creating and distributing content.
A feature of dashboards is quick access to data included in the form of reports. They provide already interpreted and graphically displayed information generated based on performance indicators selected by the company. These indicators result from the company's goals. Content marketing on these types of platforms can be measured using indicators such as bounce rate, time spent on the site, page views, unique visits, reach.
Dashboards are used to measure content marketing campaigns' effectiveness and activities in social media, SEO, e-mail marketing, and advertising campaigns. Content Campaign Dashboard systems facilitate data management and information about whether the shared content produced the desired effect. The choice of indicators depends on the type of content, which the Content Marketing Institute also suggests: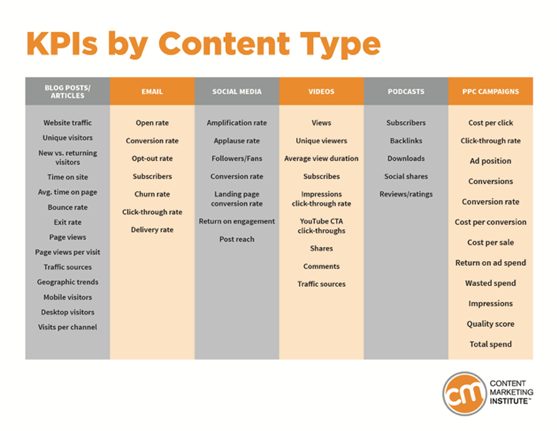 How do content marketing optimization platforms work?
An example is the Content Campaign Dashboard system from SEO / SEM / Marketing Agency. It is a platform that allows you to create solutions based on Content Experience, including the analysis of existing content, creating new content, distribution, and testing its effectiveness. I will mention a few features that the tool offers.
Dashboard – here is access to inbound traffic analytics, from which you can learn:
what content is the most popular and the number of views,
where do users come to the site from, i.e. what are the sources of traffic on the site (e.g. organic search results, advertising, links shared on other sites, social media, e-mail, directly entering the website address or opening it from the tabs),
who are the users – based on data on gender, operating system, language they use and city (e.g. 7,450 users, i.e. 41% of all recipients are from Warsaw).
Recipients – here, you can find information about target groups/types of companies, segments, and personas, as well as statistics. And so, the target group may be large production companies and the persons of the marketing department director, sales director, and marketing specialist. Next to each person, you can see detailed information, e.g., goals and problems related to the position and channels from which the persona derives information and a detailed report on the content published for them.
If you plan your content, you know that everything you create and share is for a specific purpose. Content should give the audience what they need, e.g., solve their problem. If you want to hit everyone, you'll hit nobody. Therefore, defining the target group, dividing it into segments, and assigning a person is a step that you cannot skip.
It is worth bearing in mind that B2B recipients need different content and communication, and B2C consumers need different content. The users' needs also result from the stage of the sales funnel. For example, in the upper part of the funnel, blog content and infographics will work; it can be a product comparison in the middle. In the last stage, customer opinions or detailed information about the product/service will dispel doubts and answer questions.
Repository – in this tab, you can filter the content (e.g., date, target group, content type, funnel stage, selecting from the list the people who published the content or created it). Clicking on a content's title takes you to details about it, such as visibility data. It is a place that gives you access to all content and the certainty that none of it will be missed while reporting.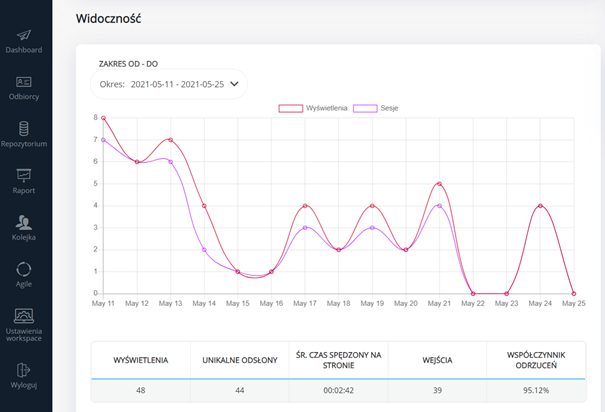 Https://www.ccd.ideoforce.pl/ tool
Report – in this tab, there is a quick overview and a detailed report, and you can see, for example:
what amount of content corresponds to the elements of the PESO model (Paid – Earned – Shared – Owned),
how the content produced looks like against the background of the sales funnel,
how much content is in a specific type of content, e.g. blog entries,
Effectiveness of content generated by team members and external users by impressions, unique pageviews, average time spent on the site, bounce rate and hits.
In summary, the content created and managed with this tool considers the stages of the sales funnel, the PSEO model, customer journey, and customer needs. You can establish your target audience and persona and define what reader/audience/customer problem you want the content to solve. On this platform, you will see which channels generate the most traffic.
For example, if the most traffic comes from Google search results, it means that you should focus on-page search engine optimization.
Who is this platform for?
Certainly for companies that produce content and run content marketing campaigns. For teams that want to manage content in a way that allows assessing the effectiveness of the content. If the company has a problem with publishing content regularly, the tool will sort out the chaos resulting from insufficient communication and a missing plan. If he collaborates with external developers, he will also benefit from it. The system gives insight into who is responsible for developing particular topics and when they are scheduled to be published.
Other examples of a content marketing platform are Mintent, UpContent, DivvyHQ, Joomag.
As content marketing does not exist without content, its quality should be taken care of. A noteworthy solution is a WhitePress platform – Content Premium, where you can order texts. It is enough to add an order, choose an author, publish an offer, and order the content. The platform offers many types of content, e.g., blog articles, product or service reviews, social media posts. What's more, the formalities related to the transfer of economic copyrights by the creator lie with Content Premium and not with the ordering party. In this way, the company receives high-quality content and saves time.
What do content marketing and SEO have in common?
Let me know what words you use, and I'll find out what you need – you don't need to convince me about the role of keywords in content marketing. The common element of content marketing and SEO is content. First of all, good content marketing is valuable, original, engaging, and so should the content posted on websites, on social media, or sent in e-mails. Google, just like users, likes good content, as evidenced by efforts to improve the quality of content available on websites. I am talking about the Panda, Penguin, and Hummingbird algorithms.
The purpose of the Panda algorithm introduced in 2011 was to limit the visibility of low-quality pages, i.e., pages containing content that is not useful for users or copied from other websites. In 2012, the time came to crack down on low-quality links. All thanks to the Penguin algorithm. A year later, Google started to provide users with content that meets their needs. It is thanks to the Koliber algorithm that Internet users receive results consistent with their intentions.
The results bring users closer to the purpose of using the search engine, and this may be, for example, a visit to the nearest car repair shop or searching for a confectionery whose offer meets the needs of people on a gluten-free diet. This means that content creators should also consider users' questions arising from the needs of the moment. If the user knows what he wants and needs a quick response, we are dealing with micro-moments. The user will use different types of words, depending on the need.
Google distinguishes 4 types of micro-moments :
I want to know – for example "what running shoes". The user is looking for specific information about his running shoes, so please provide it.
I want to go – eg "Indian restaurant Krakow". A company that operates locally should ensure visibility on Google for these types of phrases.
I want to do – eg "how to pack for a trip to the mountains". In this case, content with specific tips and advice, such as a video, will be great.
Helpful tools
Content management includes creating content, distributing materials, and evaluating their effectiveness. In content marketing, content is text, image, video, and sound. Each of these formats needs special treatment, and you will find the right optimization tools for each.
We publish different content on the blog, other on the home page, and still different in the online store. However, in each of these places, the content should be useful to the user, include keywords (including in the body, links, headings, URL), CTA, and internal links. The artwork must have an alternate description: good movie title, description with links, and tags.
Information about the recipients is provided by Google itself, e.g., in suggestions, Google Trends results, and data from Google Analytics. If you need ideas about content topics, tools like Ubersuggest, SEMSTORM Theme Generator, Portent Content Idea Generator, AnswerThePublic are helpful. You will ensure the correctness of the texts with the Orthograph, Grammarly, Language Tool, and Jasnopisek. Canva or Pablo will be useful for creating graphics, and Infogram and Piktochart will help with infographics. Useful analytical tools, in addition to the aforementioned Google Analytics, are Brand24, Sotrender, Sentient, Newspoint – it all depends on what you want to analyze. DuringMonitoring the website's position in Google and optimizing keywords is perfect for Senuto, Surfer, or SEMSTORM.
Finally, I recommend interesting books on content marketing :
"Content marketing. From strategy to effects "- Justyna Bakalarska-Stankiewicz
"Content management. Strategies and tools "- Meghan Casey
summary
Content marketing is the answer to ad blocking, banner blindness, and information noise, and can be complemented by native advertising.
With the help of content marketing, companies sell, optimize costs and gain new customers, and maintain good relations with the existing ones.
Content marketing optimization is possible thanks to Content Campaign Dashboard platforms and content ordering systems.
Content marketing is related to SEO, which is reflected, for example, in Google's efforts to provide users with content consistent with their intentions.
There are many tools on the market that help content managers at work – they facilitate optimization, distribution and promotion of various types of content.
Summary
In a world where the recipient's attention is worth its weight in gold, content marketing turns out to be a recipe for the problems of companies and … their customers. Consumers do not expect messages but communication. The content has a job to do, and that job is to provide an answer and solve the problem. Content is a tool that well-known brands (e.g., Coca-Cola, Lidl, Nike) who successfully run content-based marketing campaigns know very well.
However, it is not enough to share the materials hoping that the recipient will find them himself. You have to help him (e.g., by using keywords or a communication channel he often uses) and then keep his attention efficiently enough to stay longer, recommend the material to someone else, or decide to take advantage of the offer.
All this takes time because clients have needs and a lot of doubts that also need to be answered. However, it doesn't have to be a task that you will spend long hours on. It does not have to because tools optimize content marketing campaigns, facilitate content management and acquisition, and facilitate cooperation. Thanks to them, you can check on an ongoing basis whether the content that came out to meet the potential customer is the content that he actually needs.