Visit our store: You can order an SEO service from our company online, and we will start working on your website much faster.
Fill out the form
and get a free quote!
GET A FREE QUOTE FOR SEO ACTIVITIES FOR YOUR BUSINESS
Leave us a contact to you and we will call you back and present an offer tailored to the needs of your business.
---
The success of an online store depends on several elements that must be taken into account during its creation and development. One of the key issues is optimizing the store for SEO.
The success of an online store depends on several elements that should be taken into account when creating it. Of course, e-commerce can be created concisely, but it does not have to sell. However, if we plan to create an A to Z store from the first months, the revenues can be really high. Of course, this requires time and a budget, but effective e-commerce that sells can be at your fingertips – you only need to follow certain rules.
Market analysis and competition research
The first step is a market analysis that will allow you to assess how much competition and budget we have to plan from the very beginning. The more stores in a given field, the greater the costs of creating effective e-commerce will be. It is much easier to create a store in a niche industry and rank it in the TOP of search results in the first months of the website's operation than to compete for the phrases "laptops" or "monitors." Good optimization, interesting offer, and an appropriate CMSwhich will allow for a quick purchase path. After a few months, we can be positive by deducting the costs necessary to create a store – as long as the number of stores in the industry is not too large. However, if the competition has been operating in the industry for many years, and in addition to the "top ten" in SERPs, there are strong players for top phrases, it can be tough to end even the first year with a profit.
It also has a big impact on targeting only one sales channel or trying to act in many directions. Selling the only organic, in the beginning, can be difficult as getting high in search results sometimes takes time – the more competition, the harder. A good idea from the very beginning is to invest in a paid Google Ads ad, which will allow you to sell from the very first days of the store's operation – of course, if the offer of our store is appropriate and the purchasing process will not be a problem for the user. However, paying to advertise requires a larger budget from the very beginning, which can be difficult in start-ups because the amount of costs at the very beginning of starting a business is quite high.
See also: Are Google Ads suitable for an online store?
Proper name and hosting for SEO
The next step is to choose the domain name under which our store will be located. The shorter the address, the easier it is for the user to remember. You can often find stores where we will know what will be in it from the moment we see the URL address—for example, a store at mate race. Pl will most likely offer mattresses – it is logical.
Does the domain name affect SEO?
The keyword phrase in the URL affected search engine optimization some time ago. Currently, however, it is independent and what counts is the "title" tag and what content will be on the page. Therefore, under the name dobrespanie. Pl, there may be a mattress shop, and although we do not have a keyword in the URL, it is possible to position such a shop.
Adequate hosting is essential.
Being at the stage of choosing a domain name, we must also ask ourselves what hosting we choose for our e-commerce. Hosting should be reliable, and even in heavy congestion, it should work quickly and steadily. The larger the store, the larger the server space we will need. If it is e-commerce for twenty products, then even the simplest solutions should be able to cope – of course, unless the traffic is gigantic, but with such a small assortment, I would not be afraid of it.
The case is completely different if our store has several thousand products in various sizes and colors. Then the matter looks much more complicated, and the choice of hosting will not be so easy. In this case, you will need to ensure reliability so that many users can shop simultaneously, and it should not be a problem for them.
Speed ​​matters
The site should load quickly, and hosting is to some extent responsible for this. The better results our e-commerce achieves in PageSpeed ​​Insights, the better because speed impacts search engine optimization. In addition, each of us knows that the user cannot wait because the longer the waiting time for the server's response, the more abandoned carts.
If we intend to make the store also sell abroad, it is also worth taking an interest in a concept such as Cloudflare because it will allow users from every corner of the world to load quickly.
The optimal store platform
The right CMS in the online store is the basis, so this step is crucial when building e-commerce. It is on it that daily work will be based, so it mustn't cause problems in operation. Of course, the use itself is one thing, while another aspect is SEO, which is especially important in online stores. Therefore, a content management system must have at least two features – be functional and easy to interpret by search engine robots.
Easy to use during everyday duties
Daily work in the CMS of an online store should be a pleasure, so it is important that everything can be set there – the price for a specific product, size, color, etc. It should also be easy to add a product, change the description and photos. Adding special offers and promotions should also be at your fingertips. In addition to selling at home, many online stores also offer products on external platforms, such as Allegro, Ceneo, etc., so integration with external entities is also important. We are talking mainly about prices and inventory, which sometimes change even several times a day.
E-commerce is perfect for SEO
There are many solutions, but it is up to us what we choose for ourselves. Magento, Editor, PrestaShop, Joomla, Shopify, or WordPress with the WooCommerce snap-in are just some of the most popular solutions available on the market. Each of them has something that attracts entrepreneurs to choose a specific product. SEO needs to set the URL, H1 header, title tag, and meta name description for a specific product from the system level. This is, of course, the basis that a CMS should have. Some of the solutions have this built-in, and some have to buy plugins responsible for specific tasks. So you have to calculate what we care about and what is more profitable – buy a "bare" content management system and buy additional plugins or choose a solution tailored to individual needs. Some stores often change their offer and remove products, so the module responsible for redirects will also be important – this should also be remembered.
Read also: Choosing the Best CMS in terms of SEO
Keyword selection
Having the name of the store, hosting, selected CMS, and an agreed offer with wholesalers, you should examine the key phrases that will be converted. The products themselves at good prices are not everything, because, despite the high margin, nothing will sell without customers. But how to make the customer hit the offer of our store? It would help if you found the phrases that users are typing. The users must search key phraseseir selection must select them so that users search them and then use them in the process of building the product page.
Also take care of the main categories.
The product subpages themselves, more about which in the next section, will not make the store sell, because categories are also particularly important. Sometimes the user looks for a given solution, and sometimes a category in which he can find products in different versions and prices. So we have to let it find both the product and the category. Thus, key phrases must be searched by users , because what about phrases that no one is looking for.
Search engine optimization aid tools
If the online store is already running, you can use the Google Search Console tool and check which keywords are in Google. The tool will provide information on what we are already ranking in SERPs, and the specialist will find phrases that should be supplemented with descriptions and titles. However, if the store does not exist yet, and is at the stage of creation, it is worth using external tools that will indicate what users enter. The simplest solution is the suggestions from Google , which are displayed in the search bar while typing a given query. However, they do not show the number of searches, unless we use one of the SEO extensions that support search engine optimization. The above solutions are free and have limited possibilities, however, you can always reach for a "larger caliber" and use paid solutions that have a huge database of keywords , thanks to which researching keywords will not be a problem.
Taking care of product pages
Product pages are especially important and although few people look at them, it is worth spending a little more time on them. Often, product descriptions are copied from the manufacturer's website and this can be called duplicate content. In e-commerce it is treated a bit differently, because almost every store uses it. At this point, it is worth mentioning beyond the competition, and it is worth and dedicated product descriptions . Of course, those from the manufacturer's website are also good to include, but you should remember about a dedicated, unique description. This will allow you to go beyond the competition – only in this aspect, but if we also do the rest, we can be in the TOP 3 search results for mega-popular phrases.Bet on innovative management of your marketing strategy
and stay ahead of your competitors!
The form that two won't do many he stores writes the description more pleasant, which will show the advantage and the advantages of the store that this product offers. Free delivery, returns, safe payment are the basis today, but it is also good to highlight on product pages. Maintain a structure suitable for SEO , which in addition to H1 will also include second-order (H2) and lower-level headings (depending on individual needs) in the content.
In addition to the description, take care of product photos
The description is especially important, but without a photo of the product, we won't do much. Therefore, one should remember that product subpages, in addition to descriptions, also have graphics that can attract the eye of even the most demanding customer. When adding a photo on your website, take care of the appropriate photo titles and alternative descriptions ("alt"), thanks to which your store will gain traffic thanks to Google Graphics . Properly optimized images allow you to increase sales, so it is also worth remembering about it in every online store. Of course, the phrases contained therein must be consistent with those found by the SEO specialist and with the photo available on the product card.
Content that will be converted
As mentioned above, product subpages are the basis because they also have content available to the user in addition to the text for search engines they contain. In addition, sales can be supported using a blog. However, what does the blog have that the product website does not have?
Differences between blog entries and product subpages
While in the product descriptions you can find a description of a specific solution, on the blog we will not find a description of one product, but rather a text that will contain an advertisement for a given category. This is what a blog is all about – that thanks to expert texts it would drive traffic to phrases related to products , but not in a direct way, but in a general way targeting a given solution. Thanks to this, the user will not perceive this text as an advertisement, but more as a helpful text.
We cannot include many fragments in the product description but only in the blog entry. There, in addition to information about a given product and service, we will also find more information about the company. In addition, a blog is a free promotion tool that does not require much work, and it can do a great job.
Answers to questions
Providing users with answers to their frequently asked questions is another task for which blog entries will be responsible. For example, a furniture store offering various types of upholstered furniture may create an article on cleaning a dir and users are looking for this type of answer to the ollowireceiveions:
how to clean the bed from stains,
how to clean a bed of hair,
how to clean the bed from dust
how to clean the bed from dust mites
how to clean a suede bed
… etc.
So, as you can see, there are many entries starting with the phrase "how to clean the bed", and each subsequent one is building a long tail, i.e., wide search engine optimization.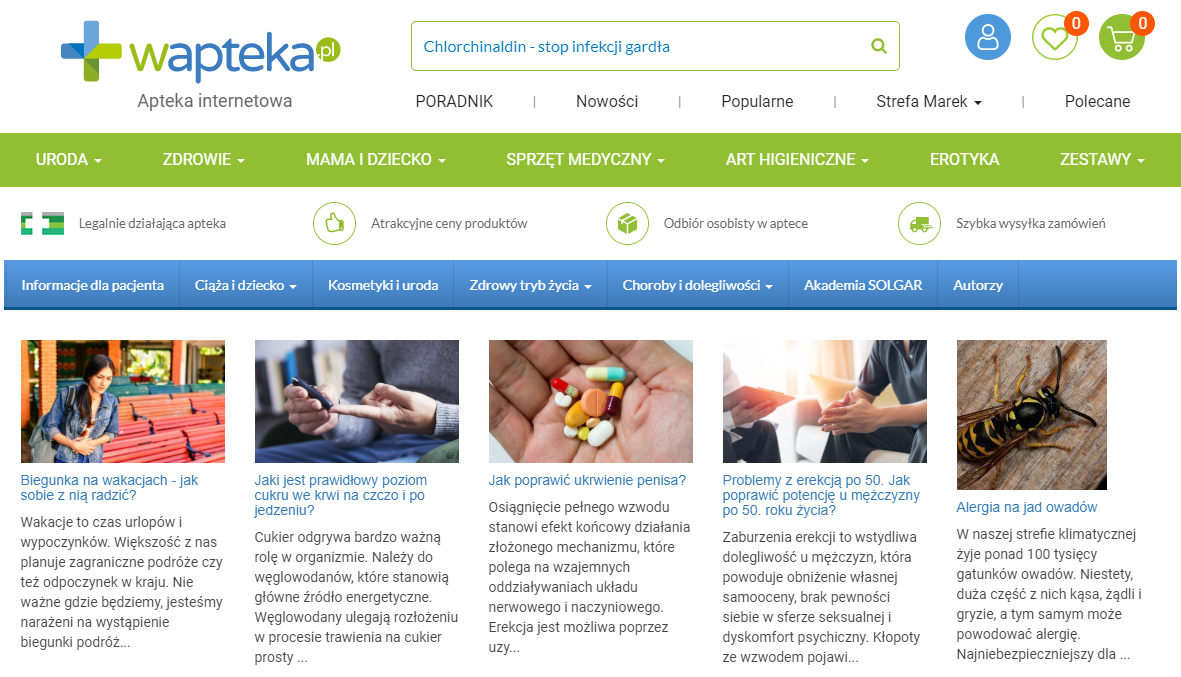 Fragment of the blog on the website Apteka. pl
There are many possibilities for entries that can generate movement for a bed, and if we add chairs, armchairs, pouffes and other similar furniture offered by the store, you can create a quite interesting knowledge base about upholstered furniture. Thanks to this, the user, in addition to the possibility of shopping in the online store, also receives useful information about the products offered by a given e-commerce . Of course, this works both ways, so that the user who is looking for a preparation to clean his sofa in the article may also receive an offer to buy a new sofa.
The customer is the most important
There is nothing to hide, but the customer is the most important in every store. It is he who must get to know our store's offer, use it and recommend it to friends. However, there are many factors that contribute to customer satisfaction – from the right product to the service itself, which must be impeccable, because one mistake and opinion may not be too favorable. And it has been known for a long time that despite 10 satisfied customers, one dissatisfied customer is enough to scare the next.
So remember that the user (especially the satisfied one) should leave an opinion about the store both on the subpage of the product and on external websites. However, how to encourage the customer to leave an opinion after the purchase? We often share negative opinions, and there is not much talk about the positives – that's why, after receiving the package, you can send an e-mail asking for a rating. Of course, you can do it immediately after receiving the package or, for example, after two weeks, because after this time we can say something more about the goods than just after receiving the parcel.
For the customer to share their opinion about the product, the store must have this functionality. Many dedicated solutions (CMSs) have such modules, but not everyone decides to do so, because such opinions also need to be moderated. However, it should be mentioned that a potential customer, if he sees some opinions about a given product, makes purchasing decisions much easier than in the case of an assortment without any opinions.
Another advantage of website reviews is the ability to stand out in search results thanks to structural data such as schema.org.
Fragmet search results on Google with rich snippets.
Thanks to Rich Snippets, not only the URL, title, and description are possible, but also a section with opinions and prices. It may seem like a detail; however, our store can stand out from the competition's offer thanks to the structural data.
The number of links matters
Internal linking is critical regardless of the type of website because whether it is e-commerce, company website, or blog, internal links have to be. It should be mentioned here that the links inside the page benefit not only SEO but also that for the user. Links make it easier for search engine robots to follow the page.
Internal links play a particularly important role in the website menu in an online store, where the most important product categories should be included. The menu bar is located subpage of the website: there and more subpages, the more links to the most important categories. If a given subpage has a lot of internal links, it is a signal to Google that it must be an important element in the structure of the entire website . In this way, we can distinguish key categories for our e-commerce.
Another thing is product sheets, which should contain various sections that will increase internal linking. We are talking here about, for example, similar products, recently viewed or bestsellers of a given category . Such elements help in the search engine optimization of websites and allow you to increase sales, because perhaps the user will like an additional article, thanks to which we will increase the value of a single basket. So this is not only an advantage when it comes to SEO, but also a business one.
See also: How to speed up page indexing on Google?
Not only on-site matters
Search engine, In short, search engine optimization into on-site, i.e. activities on the website, and off-site, i.e. off-site . There was a lot about the former, i.e. on-site processes, in this article, but not about those outside our website. At the outset, it must be said that both of them are very important. However, we have a greater influence on-page SEO because all changes can be made on our website; however, off-page SEO is not necessarily dependent only on us but on people managing others' sites.
Read more about: What is the difference between on-page SEO and off-page SEO?
How to get links to the store's website?
There are many possibilities here, because the links within sponsored articles are the most popular , but this option is payable. However, the price depends on the publisher of the website, as some publications can be purchased for even several dozen zlotys, and some even for several thousand zlotys. The better the parameters and traffic on a given website, the higher the publication price.
Another option is to contact manufacturers whose products can be found in our e-commerce. Perhaps they will be willing to leave a link to the store on their website. It depends, however, on individual arrangements with the manufacturer or distributor of a given assortment.
Websites with promotions also extend a helping hand in link building and the sale itself. This is where we find many shopping freaks who are just waiting for a special occasion. Depending on the website, adding. Therefore, it must be paid or free of charge; however, we can immediately attract a potential customer in addition to a link to our store. However, we have to organize a promotional campaign or lower the price of a given product, not by a few percent, but by at least a dozen or so – bargain hunters do not like low discounts.
Above are just a few possibilities, and take our word for it – there are many more. It should also be remembered that thanks to link building, we also care about the authority of the domain, so the "better links," the better the quality of the website increases.
Website structure
The appropriate structure of the website is of great importance in the case of online stores. While company websites often have several tabs with the most important information, e-commerce can be found in hundreds or thousands of them. It must therefore be properly planned so that the user can easily find what he is looking for – it will reduce the bounce rate.

The layout of the menu at Meble. pl
Depending on the type of store, you need to select a few most important categories and then divide them into many subcategories, which will also be in the main menu, but will appear e.g. after clicking or hovering over them. This will allow the user to find himself in the structure of the website.
Considering search engine optimization, the more subcategories the better , because we can build the visibility of each URL for other key phrases. So if you have a category with sportswear, it is good to divide it into clothes for men, women or children. Thanks to this, we will be able to position one URL address for phrases such as: sportswear for men, and another one for the words sportswear for women or sportswear for children. If all this was under one address, the matter would be difficult, and so we have a division into smaller ones that are much easier to position than those with more searches such as sportswear. Another division may also be the type of clothing, i.e. shorts, t-shirts, sweatshirts, hats, etc. There are many possibilities, and under SEO, the more separate categories, the better.
Worth knowing
What are the misconceptions about SEO?
Sometimes the term SEO is misunderstood. This is not surprising, especially among people who do not have contact with search engine optimization daily. SEO (Search Engine Optimization), i.e., website optimization for the search engine, is included in the scope of search engine optimization. However, many people use the term interchangeably, which is not appropriate. SEO concerns activities carried out on the website, but search engine optimization also includes work performed outside the website. These are link building, i.e., linking and activities performed to obtain a high level of trust (so-called trust rank factors) of the search engine to the website.
There is also a belief that both SEO and search engine optimization are one-time actions, and the results of the work carried out appear quickly. If we talk about stable effects that will last for a long time, it will certainly require time and work to achieve them. We often hear voices that SEO is nothing more than placing keywords in the content on the page – nothing could be further from the truth. Yes, keywords are part of the SEO strategy, but they are not the only element of activities in this area. Keywords are associated with the belief that sponsored links as part of a Google Ads advert. Many factors justify the price, which can replace SEO work. In this case, the visibility of the website in the search engine positions depends on the time during which the advertisement is paid – it does not affect the stability of the website in organic results. Why are SEO services so expensive?
There are many accusations that SEO is too expensive, that companies cannot afford it. Some are convinced that this type of work, due to its price, can be afforded by the owners of well-established sites . Nothing could be more wrong – of course SEO costs money, but the price is justified by many factors. It is definitely worth investing in SEO, even though it requires financial resources and patience.
Conducting SEO activities is multi-component and time-consuming. It requires specialist knowledge, the use of tools and software, and the involvement of many people. Therefore, it is most often run by a company offering this type of service.
Professionals, first of all, start their work by conducting an SEO audit , which gives a clear picture of the situation in which the website is located. An audit is an extensive analysis, but it is worth mentioning that not all websites require it. However, there are somewhere an SEO audit is a must. The price of the audit depends on the size of the website, e.g. it will be much higher in the case of an online store (due to its complexity). What else is included in the cost of the service?
Website optimization, which consists of improving its code and structure and individual elements such as headings, keywords, and content, graphics, or elimination of errors. It is also necessary to use analytics tools for which you must pay a subscription.
SEO also includes link acquisition. This requires both content creation and the involvement of people who acquire valuable links.
Agencies specializing in SEO involve several or even a dozen people in their projects. They deal not only with SEO, because the service also covers monitoring and reporting of activities, writing texts, creating graphics. Some works are performed by external entities cooperating with the company. This is not due to the lack of skills, but due to care for the highest level of service. All this affects the cost, which is only seemingly too high – the effects of SEO activities (with time they are more and more visible) bring benefits that many times exceed the expenses incurred. What is an SEO audit?
SEO audit is the examination of website elements in terms of the search engine. Without a detailed or HTML code's correctness out preparing a strategy that is appropriate for a website.
SEO, in turn, is the optimization of a website that is supposed to raise its position in the natural results. This means that the appearance of a specific page in response to the key phrase is not a coincidence but a consequence of search engine optimization. SEO audit covers elements inside the website, the so-called on-site and off-site factors. The first ones include site navigation and structure, page loading time, correctness of H1-H6 headers, adaptation of the page to mobile devices or the correctness of HTML code. Off-site factors include the analysis of competing websites and social media signals as well as the quality and quantity of links pointing to the website, and even examining whether the website has already had Google penalties.
SEO audit requires specialist knowledge and skills to use tools such as SurferSEO, Xenu or Google Search Console . For this reason, the audit is the subject of agencies' activities offering website search engine optimization. However, this type of analysis needs not only a traditional website, but also an online store. The results of the audit are a response to why the page that seems to have no problems with the structure, keywords, etc. does not rank. The agency we commission to perform the audit should provide us with a report with recommendations and proposals in response to the detected irregularities. What influences the search engine optimization of the website?
Website search engine optimization is a complex process related to website optimization. Search engine optimization is influenced by elements directly related to the website. As there are quite a few of them, let's focus on the most important ones, namely:
Age and history of the website – Google is always more favorable to a website with a longer history. However, the website's seniority is not enough. What affects the quality of the website, updating the website or the lack of penalties imposed by Google for actions that violate the principles of fair positioning.
Content on the website – thanks to them, the level of trust in the website (the so-called Trust Rank) by Google is determined. The content should be constantly updated, useful for website visitors and, importantly, original. There can be no duplication of content from other pages and placing the same content on different subpages.
The quality and quantity of links – linking, i.e. encouraging users to place links on other pages. Good content is a chance for the interest of the recipient who disseminates content in the network, i.e. links the page. Correct links within our website are also of great importance, as they refer the user to other subpages.
SEO activities – website optimization for the search engine (most often it is Google). The website should be adapted to Google robots. Among the activities related to SEO, we can mention work on the website code and keywords – they should be not only in the content, but also in the title, H1-H6 headers, meta description and URL.
SEO audit – it is a detailed analysis of a website regarding areas related to SEO. Without an audit, we will not have knowledge of the website (on-site elements) and external factors that affect it (on-site elements).
Compliance with Google – work must be carried out on the basis of Google guidelines and recommendations, and this requires constant tracking of changes in algorithm updates.
Adaptation to mobile and loading speed – the website should be adapted to display on mobile devices and load quickly.
How long does online store search engine optimization take?
Search engine optimization for a website is to place it in high positions due to the search. As a consequence, such a website is visited more often and becomes recognizable over time. In the case of an online store, greater visibility means more sales. When we can expect the first effects of search engine optimization, an online store is usually a few months from work. Several factors influence how quickly the results of the work appear. Knowing them will help us understand why sometimes longer waiting for results, and they are:
Industry, meaning everything related to the competition, customers and the store's assortment (e.g. introducing new products to the market).
The phrases for which we position. Competitive keywords require much more time and money.
The implemented systems, such as software dedicated to the e-commerce industry.
SEO strategy, from audit to optimization.
The history of the website, i.e. previous positioning activities, but also the age of the website – the older it is, the better from the point of view of Google.
The quality of cooperation between the client and specialists. Sales websites require updating their content and offer, which means, for example, that inaccessible products should disappear from the website.
Search engine optimization carried out following the applicable Google rules and policy always takes time. However, this expectation has its advantages – the website's position, as a result, is stable and lasts for a long time.
Summary
To sum up, to be successful on the Internet, you should prepare yourself for it, especially with an online store business, which is mainly based on the web. An advantageous offer is often not enough, as the number of online stores is growing every day and in order to appear for important keywords in the TOPs of search results, you often have to work a lot. However, by using the practices described above, the path to success will certainly be much easier.